Roll over image to zoom in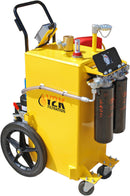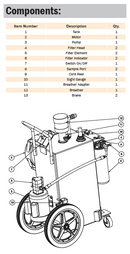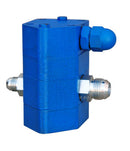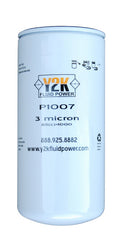 Description
4 WHEEL T-3 TOTE 
D SERIES 
Model #T3D5WR75SHSQ40R4


The T-3 Tote includes a 30 gallon tank and helps with transferring, filtering and topping off sumps and reservoirs.  Use it to filter oil off-line and for cleaning up reservoirs. It is self-filling and can be used to pump oil into other containers.
It is perfect for filtering oil viscosities up to 600cSt (ISO VG 680) at 100ºF within ambient temperature ranges of -15ºF to 150ºF.
Specifications:
5 GPM

1HP Motor

Standard 7' Hoses (3/4" & 1/2")

Standard ISO B QD's (3/4" & 1/2")

2 ea. 5"x14" Elements

Internal Pump Bypass

40' Retractable Electric Cord Reel

Sealed On/Off Switch

30 gal Steel Reservoir

Desiccant Breather

Color: Black
Product Dimensions: Approx. 30"L x 19"W x 35"H
Weight: 125 lb
Payment & Security
Your payment information is processed securely. We do not store credit card details nor have access to your credit card information.