Roll over image to zoom in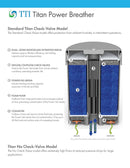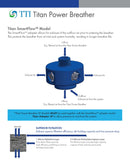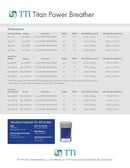 Description
Titan Power Breather - SmartFlow
High flow, extended life Power Breathers are ideal for tank farms and large applications. Options include: standard check-valve technology, SmartFlow™ technology, and no check-valve option for extreme flow applications.
Titan SmartFlow™ Model allows for exhaust of the outflow air prior to entering the breather. This protects the breather from oil mist and system humidity, resulting in longer breather life.

-Sold in Box quantities of 6. 
-The SmartFlow Breathers must be used with the SmartFlow Adapter, sold separately. 
Payment & Security
Your payment information is processed securely. We do not store credit card details nor have access to your credit card information.