Roll over image to zoom in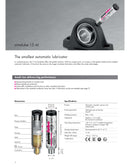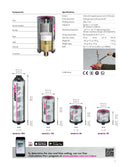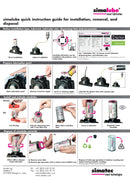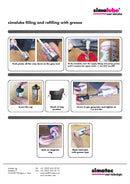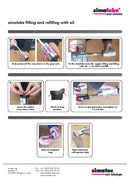 Description
simalube lubricators, which come in five different sizes, are suitable for any single-point lubricating task with grease or oil. They can be used in a variety of applications with many different greases and oils.
Roller bearings that are either insufficiently or wrongly lubricated wear out long before they have reached their expected product life. simalube lubricators guarantee a consistent supply of lubricant in the pre-adjusted amount. With simalube, shutdown times are decreased and costs in comparison to time-consuming manual lubrication are greatly reduced.
It takes only a few seconds to attach simalube to the lubricating point. The gas producing dry cell takes over from there. The dry cell produces hydrogen gas, which builds up behind the lubricator's piston, pushing the piston and dispensing the lubricant automatically and evenly. The amount of lubricant can be steplessly adjusted by means of an Allen key.
simalube lubricators can be used to lubricate any kind of bearings, chains, open gears, guide rails, spindles and much more.
Take advantage of the simalube benefits
Reliability
Lubrication points are continuously supplied with lubricant
No lubrication point is missed
Easy monitoring of the dispensing process thanks to the transparent housing
Environmental sustainability
simalube can be refilled up to 3 times
Easy disposal at end of dispensing cycle
simalube lubricators do not contain toxic substances
Flexibility
simalube is available in 5 sizes: 15, 30, 60, 125 and 250 ml
Freely selectable dispensing cycle of 1 to 12 months
Dispensing cycle can be modified anytime
simalube is available filled or empty for self-filling
Unlimited range of uses
In confined and hard-to-reach spaces
In any location, even underwater
At ambient temperatures of –20 °C to +55 °C
Numerous installation options thanks to a large range of accessories
The standard lubricant range includes modern and proven high-performance lubricants for all applications
Payment & Security
Your payment information is processed securely. We do not store credit card details nor have access to your credit card information.