Roll over image to zoom in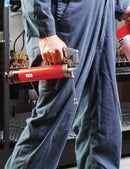 Description
Pistol Grip
Color: Dark Green
Product Dimensions: 15 (L) x 5-1/2" (W)
These OilSafe Pistol Grip Grease Guns are perfect for one-handed use. They help keep fingers from getting pinched and are great for use in confined spaces and places where grease fittings are hard to reach. Match the color-coded grease gun to an OilSafe color-coded Grease Fitting Protector and ensure the right grease is applied to the right equipment.
3 way packable - cartridge, suction fill or by filler pump
Super strong pistol grip handle with soft rubber grip
Operate to 5,000 PSI (345 Bar)
Capacity for 14oz (400gm) cartridges or will fit 500cc bulk filled
1/8" NPT threads
Comes with both a 4" steel and 12" flexible extension
Color-coded grease guns are available in 10 colors.
Payment & Security
Your payment information is processed securely. We do not store credit card details nor have access to your credit card information.