Roll over image to zoom in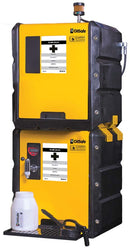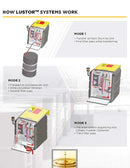 Description
Use Lustor systems to store, filter and dispense lubricants. They are cost-effective, compact and expandable.
Ideal for plant maintenance and lube rooms. Lustor systems combine proper oil storage, filtration and identification for an efficient and organized workflow. They keep your oils dry and contaminant-free before they enter equipment.
Lustor systems feature an impact resistant poly-tank and yellow aluminum plate. The rugged tank protects lubricants from sunlight and does not rust or react with the lubricants.
Features
130 gallon (500 liter)
Pneumatic pumps (3:1 air/oil pump)
Impact resistant poly-tank with yellow aluminum plate
10-micron filter (3-way filtration)
Oil consumption meter
Auto shut-off dispensing tap
Drip tray
Drum transfer hose kit
Desiccant breather to keep dirt and water out
Benefits
Compact and expandable
Cost-effective
Organized and clean work space
Increases work environment safety
Prevents oil cross-contamination
Improves oil quality
Lowers oil and maintenance costs
Less machinery downtime
Increases productivity
Optional Upgrades
Custom Oil ID Label for Front Panel
3 or 20 Micron Filters
Pneumatic 5:1 Pump
Colorized Quick Connects
Dimensions: 28" x 39" x 63"
Payment & Security
Your payment information is processed securely. We do not store credit card details nor have access to your credit card information.