Roll over image to zoom in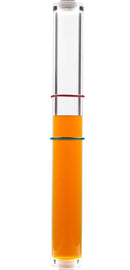 Description
Oil Sight Glasses 
Oil Level Indicator
Mounting Connection: 1/2" MNPT
Volume: 9"
Product Dimensions: 0.875" OD, 9" L
SKU: #OLI9
The Visual Oil Analysis (VOA) product line consists of tools that allow you to observe the health and level of your lubricants with a clear view of oil clarity and color, sediment, and water contamination in the oil. The VOA products can be used in any industry that uses reciprocating and rotating equipment with oil reservoirs and offers immediate oil inspection.
The VOA line consists of the Oil Sight Glass, the Oil Sight Glass & Level Monitor, the Oil Level Indicator and the 3-D BullsEye. This full-concept approach provides lubrication management professionals with a one-stop source to handle any lubrication problem.
The Oil Level Indicator (OLI) was developed in response to the need of maintenance professionals to gauge the oil level inside large tanks, gearboxes and reservoirs. When water contamination is not a problem or when a regular Esco Oil Sight Glass is already installed at the drain port, the Oil Level Indicator can be utilized to monitor oil level.
The oil gauge indicator is a clear acrylic tube with ½" NPT threads at each end. Red and green decals are included with the OLI to mark upper and lower limits, or to designate running oil level and idle oil level. Oil Gauge Indicators can be installed with the optional breather* at the top ½" NPT port as seen on the Esco Oil Sight Glass and Level Monitor.
If the user requires a closed loop, the ½" NPT can be used as a connector port to feed back into the system. Operators can visually monitor the oil for dirt and debris and take appropriate preventive action.
Why use an old style vented oil gauge that is difficult to see through and has breakable glass, when you can install a crystal clear, strong acrylic Esco Oil Level Indicator that offers 360° of oil viewing?
The Oil Level Indicator is offered in 3", 6", 9", 12" and 15" lengths. Longer lengths, custom options, and additional hardware available.
Payment & Security
Your payment information is processed securely. We do not store credit card details nor have access to your credit card information.