Roll over image to zoom in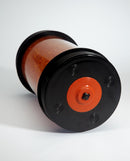 Description
Guardian Series
GUARDIAN is Air Sentry's industry leading breather series. Some models feature an isolation check valve that keeps exhaust air from depleting the desiccant and protects from volatile fumes and splashing fluids. The GUARDIAN's casing is constructed from Tritan™ a patented material highly resistant to impact and chemicals with a broad range of operating temperatures. These unique features equate to a longer life for your breather and your equipment.
GUARDIAN's modular construction and optional add-on features allow you to customize each Guardian model to your specific application requirements. From the isolation check valve, to its stackable design, from its wash-down cap, or its compound indicating gauge, to the high-capacity HEPA filter, the GUARDIAN will last longer and reduce downtime giving you the flexibility you need to protect your industrial assets.
Silica Gel Replacement Cartridge for the following Guardian Breathers:
G12S1N
G12S1NG
G12S2N
G12S2NG
G12S1B
G12S1BG
Replacement Cartridge, Silica Gel
Product Dimensions: 12"H x 5"D
Absorption Capacity: 27.6 fl oz
Silica Gel: 4.5 lb
Payment & Security
Your payment information is processed securely. We do not store credit card details nor have access to your credit card information.