Roll over image to zoom in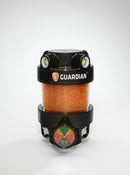 Description
Guardian Series
The Guardian desiccant breather from Whitmore is a contamination control accessory that helps prevent machines and lubricant storage containers from breathing in wet, dirty air.
The Guardian breather is modular in design so that you can customize them to meet your specific needs. Most reservoirs, gearboxes and storage tanks are designed to breathe, so letting only clean and dry air into the system is important to extend machine life.
These breathers can be equipped with optional wash down caps, high-capacity air filters, modular stacking rings, isolation check valves and compound vacuum/pressure gauges. This model includes an isolation check valve that isolates the adsorbent from exhaust air to lengthen the service life of the desiccant while also protecting it from volatile fumes and splashing fluids. It also includes a compound indicating gauge to help determine the filter condition.
Guardian with Check Valve and Gauge
With Check Valve & Indication Gauge
Product Dimensions: 9" x 5.125"
Absorption Capacity: 9.2 fl oz
Silica Gel: 1.5 lb
Mounting Connection: 1" FBSP
Payment & Security
Your payment information is processed securely. We do not store credit card details nor have access to your credit card information.