Roll over image to zoom in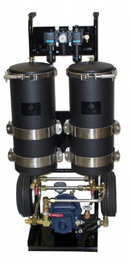 Description
Model #900035

Portable Oil Filter Cart
Dual Housing
8 GPM Pump 
Air Driven Motor

Up to ISO Viscosity 150 3/4"M NPT hose ends21" x 19" x 45" 
Harvard hydraulic filter carts are among the most reliable portable filtration systems around, designed to enable easy mobility from site to site while providing trusted oil purification across numerous applications. Compatible with most synthetic and petroleum-based fluids, our filter carts remove water and contaminants (including unwanted particles picked up during the delivery and/or transfer process) to a single micron, increasing fluid life, decreasing hazardous waste disposal and, ultimately, increasing equipment life – making your job a whole lot easier.
Resources:
Cart Configurations:

Single-housing
Dual-housing
Available Flow Rates:
Applications:
Manufacturing 
Machine Shops 
Injection Molding 
OIL EDM Machines 
Gear Oils 
Diesel Fuel 
Hydraulic Oils 
Quench Oils 
Glycerols 
Heat Transfer Fluids 
Turbine Oil 
Compressors
Specifications:

Welded Steel Frame
Corrosion Resistant Powder Coating
Pressure Gauge for System pressure & Element Condition
Housings Available in Stainless Steel
Single: 21"W x 45"H x 19"D, 135 lbs
Dual: 23"W x 45"H x 19"D, 175 lbs
10' Suction and Return Hoses Included
Pump System:

Rotary Gear Positive Displacement
Capacity: Single 5 gpm / Dual 5 & 8 gpm
Quick Priming
Integral Pressure Relief Valve 
Suction Line "Y" Strainer
Electrical:
120, 240, 480 V Single OR Three Phase
High & Low Pressure Protection
Low Voltage Protection
Payment & Security
Your payment information is processed securely. We do not store credit card details nor have access to your credit card information.